Integration for Microsoft Outlook
With the AgreeDo Plugin for Outlook, you can create AgreeDo meeting minutes directly from your Microsoft Outlook Calendar. The plugin adds new buttons to your Outlook Calendar and allows you to add, view and remove meeting minutes.
AgreeDo Plugin for Outlook: Features
Add agenda
Add your AgreeDo meeting minutes to your Outlook appointments.
Access to agenda and meeting minutes
Directly access meetings' agenda and minutes attached to Outlook appointments.
Create recurring meeting minutes
Add your meeting minutes to recurring appointments in Microsoft Outlook.
Installation Guide
This short guide leads you step-by-step through the installation process for the plugin. In case you experience any problems, please drop us a line using our feedback form.
Step 1:

Download plugin

Download the plugin and then run the setup.exe file. A warning dialog might appear.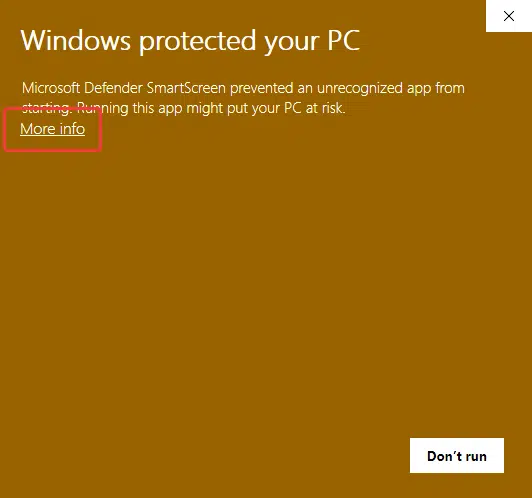 Click on the link "More info" as shown above.
Step 2:

Continue setup

The dialog displays "Siehec GmbH" as the publisher, which is correct. Hit the button "Run anyway" as shown below.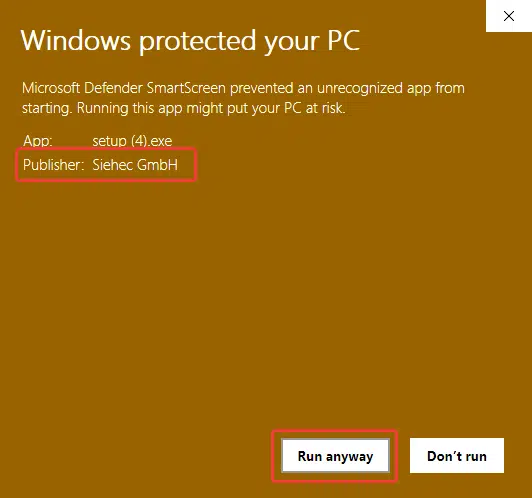 Step 3:

Start installation

Make sure that Outlook is not running. If so, please close it now. Then hit the "Install" button as shown below to start the installation of the plugin.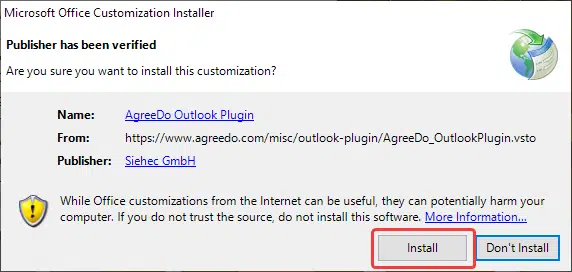 The following dialog shows that the installation was successful.

Step 4:

Setup plugin

Start Outlook. Open your calendar and add an appointment. Open the appointment. Hit the "AgreeDo Settings" button.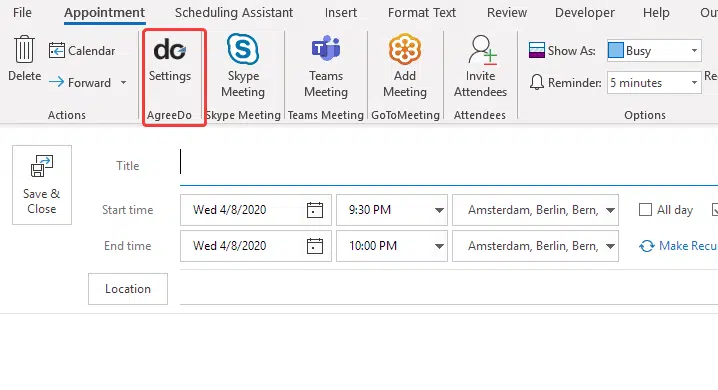 This opens the settings dialog as shown below. Enter your AgreeDo login and password. Then hit "Login" to test the connection. In case an error message appears, check your login and password. Do not change the AgreeDo server URL!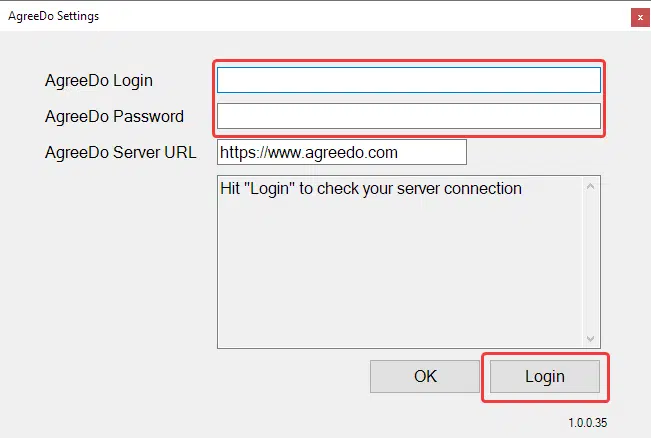 Step 5:

Read the documentation

You are now set up. Read the documentation to learn how to use the plugin.
AgreeDo Integrations for Online Meeting Tools
Microsoft Teams
You may directly join a Microsoft Teams session from the AgreeDo Meeting Minutes page. Take your meeting notes in MS Teams sessions!