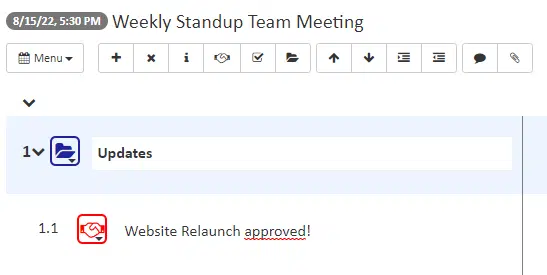 Create and Share Agenda
Best meetings start with well prepared attendees. All participants collaborate to create next meeting's agenda.
Better Agendas
Attendees use AgreeDo to add their ideas, comments, results to the agenda before the meeting even starts.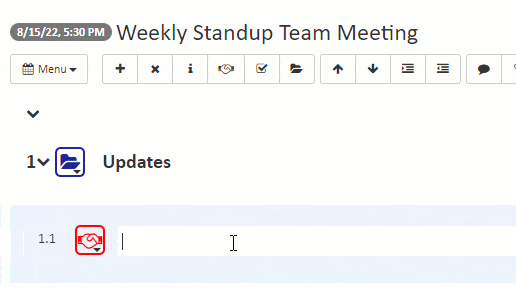 One-Click Meeting Minutes
With AgreeDo you turn your agenda into the meeting minutes with just one mouse click.
AgreeDo integrates nicely with Microsoft Teams, WebEx, etc.
Attendees directly start their online session from AgreeDo! Currently, AgreeDo integrates Microsoft Teams, GoToMeeting from LogMeIn and Cisco's WebEx.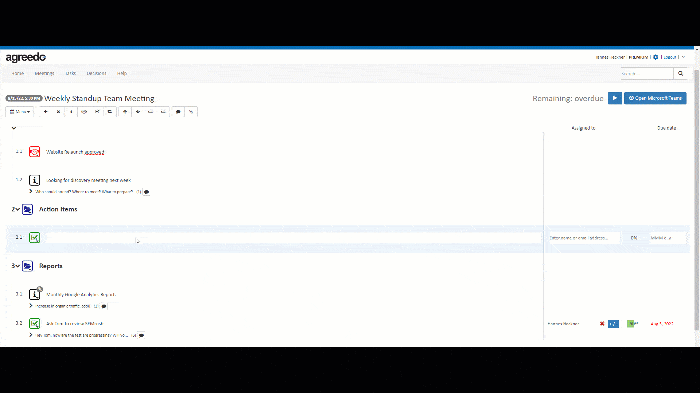 Track Tasks and Results
Track all decisions and tasks. Assign and schedule tasks within your meeting minutes.
Custom Print Layout
With AgreeDo premium you can design your own print layout for your meeting minutes. Furthermore you get more control over printing comments.
Powerful Search
AgreeDo's powerful search feature lets you easily search through all your meeting minutes.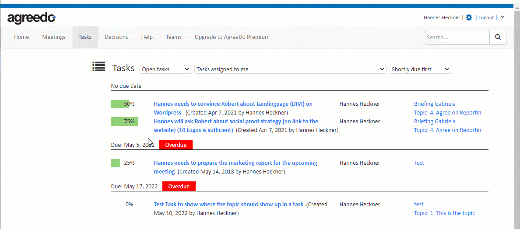 Keep Track
When the meeting is over, work starts. AgreeDo's powerful task filters help you to review all current task's progress.
Automated Reminders
AgreeDo automatically reminds your project team about tasks' due dates. Let AgreeDo drive your team's progress!
Create Follow-Up Meetings
Use AgreeDo to easily prepare your next meeting's agenda out of your meeting minutes. Only on-going tasks are taken automatically to the next meeting. Everyone knows, nothing is overlooked.
Best User Experience
Use keyboard shortcuts you can write down meeting minutes without even touching your mouse. All important features can be reached with keyboard shortcuts.
Choose Your Device
AgreeDo uses modern web technology to deliver best user experience on any device: iOS (iPhone, iPad), Mac, Windows, Android: you choose the device!
Outlook Integration
Create meeting minutes and and track your agendas directly from within Outlook. More information.
And Much More …
There are plenty of other features. Try it out for free and experience 30-days free Premium trial today!