As of today (20.2.2022), you'll be able to enjoy everything you love about AgreeDO directly in Webex! This article "WebEx and AgreeDo – Howto?" provides a tutorial on how to use WebEx together with AgreeDo. By partnering with Webex, we're able to simplify your workday and give you the tools you need to succeed! Find us on the WebexAppHub here: https://apphub.webex.com/
Tutorial: WebEx and AgreeDo – Howto?
In order to add WebEx Sessions to AgreeDo, open the "Schedule Meeting …" Dialog, like shown below.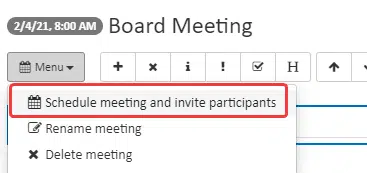 Now copy your WebEx Session Link. It looks something like this:
https://xxx.webex.com/...


Now AgreeDo shows you an additional button in your meeting:


If you click on this button AgreeDo automatically opens your WebEx Session! If you lack any additional conferencing tools please drop us a note and we will add it to AgreeDo. Furthermore, we constantly improve AgreeDo regarding the support for conferencing solutions. Stay tuned.
What is WebEx and the WebEx App Hub?
You are curious about WebEx and the WebEx appstore? As a Leader in the Gartner Magic Quadrant for Meeting Solutions WebEx provides powerful collaboration features:
Seamlessly go from a chat message, to a call, to a meeting—all from the same app.
Drive more interactive experiences with features like immersive content sharing, and in-meeting gesture recognition.
Work smarter with built-in AI features like meeting transcription, real-time translation, background noise removal, and more.
Break down barriers and give everyone a chance to participate regardless of environment, language, personality, or workstyle.
Get WebEx app at: https://www.webex.com/de/downloads.html. You already use WebEx and want to explore the WebEx App Hub? Just follow this link: https://apphub.webex.com/